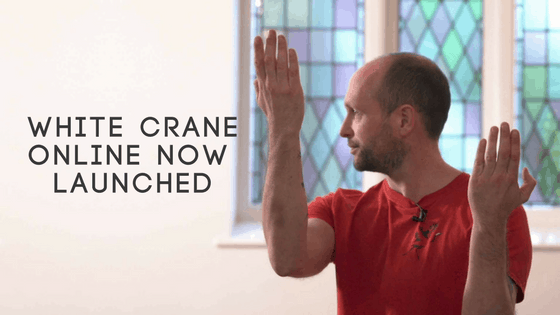 Today we are excited to announce that White Crane Online is open! Our Bronze, Silver and Gold memberships are now available, each with different levels of access to our tai chi and qigong video courses and our community forums.
All members can browse and enjoy our growing library of free audio and video content, providing an excellent introduction to tai chi, qigong and meditation. Silver membership builds on this by providing video courses led by highly experienced tai chi tutor Mark Stevenson. Over the first 12-months, Silver members will learn all 66 moves of the White Crane tai chi form, with lots more additional content, including a 3-month course teaching the Shibashi qigong form. Videos are opened up to members on a monthly basis, at a pace carefully designed to encourage practise, repetition and perfection of all the moves.
Gold membership is identical to Silver, with the addition of bi-monthly 1-2-1 Skype training sessions with Mark, as well as access to a private area of our forum, where instructors will provide advice and tips.
We are thrilled to be leading tai chi into the digital age. For too long, this amazing art has been hidden away and good instructional material has been very hard to come by.  We believe in keeping traditions of the art alive, yet helping it to evolve, reaching a new audience and ensuring that as many people as possible benefit from the wonderful practice of tai chi. 
You can now learn a graceful, elegant and very rare tai chi form, White Crane, in the comfort of your own surroundings, whenever you want. You can do 5 minutes a day, 2 hours a week, twice a day, once day a month – whatever suits you best. However, to get the most out of these courses, taking a 'little and often' approach is probably best. Daily practice is recommended to keep the new moves fresh in your mind and make them feel natural to perform.
One of the wonders of tai chi training at White Crane Online is that you can take the classes with you, wherever you go.
If you are keen to get started on your tai chi journey, sign-up to White Crane Online now. We look forward to welcoming you to our community.